Grammer Maximo Dynamic Plus
£POA
GRAMMER MAXIMO DYNAMIC PLUS With Dualmotion Adaptive Back Support
The Maximo Dynamic Plus excels with Dualmotion technology: the upper backrest section rotates as the user twists around, thus continuing to provide back support while ensuring the best possible view when it's necessary to work in a backward-facing position. Thanks to a redesigned swivel, lateral suspension, and new controls, the Maximo Dynamic Plus also ideally meets the prerequisites for installing heavy multifunctional armrests*.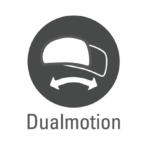 Sitting for extended periods in a rear facing position is strenuous. Fortunately, the Maximo Dynamic simply rotates with you. The Dualmotion adaptive back support reduces muscle fatigue because, together with the extra wide armrests, it keeps bolstering your back even when you've twisted around to face backward. This improves your view of rear attachments, thus facilitating work and improving safety. Making it the perfect match for large tractors and agricultural machinery
* The multifunctional armrest is not included.
Upholstery may differ slightly from the picture

Features:
Pneumatic suspension
Dynamic damping system
Dualmotion
Pneumatic lumbar support
Automatic shock absorber
Adjustable swivel
Automatic positioning system
Automatic weight adjustment
Lateral suspension
Fore/aft isolator
Passive climate system